BankID was created by several major financial institutions in Sweden. This is an innovative method for electronic identification that enables users to make online transactions, sign digital documents like mortgages, book concert tickets, and even file their income tax returns.
The innovative system of BankID was developed for the purpose of allowing Swedish banks, merchants, and organizations to sign and authenticate online agreements with individuals based in the country.
In essence, BankID is the digital equivalent of physical identification documents like one's driver's license or passport. It is available to any Swedish resident who has a personal identification number, known in the country as personnummer.
The first ever digital ID of this type was issued as early as 2003. The method quickly gained popularity among Swedes and is now utilized by more than 8 million individuals. BankID can be used for various services including mobile and online banking, which renders it suitable for casino players looking to bet real money on the internet.
The method is yet to gain broader availability in online casinos. Few gambling operators have currently added it as an option for their customers but this number is expected to increase in the near future as a means to combat online frauds and identity thefts.
Who Can Use BankID at Online Casinos?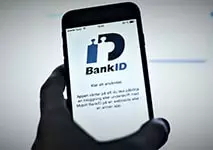 BankID is available to casino players who are permanently based in Sweden but several other European countries have also developed similar systems for electronic identification. As a matter of fact, over 50 million electronic identifications have been issued within Europe since the early 2000s when e-identification was first introduced.
The method is particularly popular in the Scandinavian region where as much as 70% of the population have electronic ID. In fact, Nordic countries are the main driving force behind this innovative approach. Banks and fintech companies in the region report the method not only enables them to save on expenses but also renders their services more appealing in the eyes of customers.
Sweden is hardly the only Nordic country to introduce electronic identification. Norway also has BankID, but it should be noted this is provided by an entirely separate organization that simply shares the same name.
This innovative approach is also applied in Denmark which has its very own NemID system for online identification, "nem" meaning "easy" in Danish. Finns can use electronic identification thanks to the TUPAS platform.
TUPAS was developed by the Federation of Finnish Financial Services and is utilized across all leading banks in the country, including Danske Bank, S-Pankki, Nordea, and Aktia. Germany and Spain have also jumped on the bandwagon with the Neue Personalausweis and the DNI-e electronic ID systems.
This online method of identification is a viable option only for players based in Sweden, Germany, and Finland. They can use it to verify their identities at no-account online casinos.
The feature is not widely supported by online gambling operators as of the present moment. Currently, only few casinos are implementing BankID for sign-ups and payments.
What You Need to Start Using BankID at Online Casinos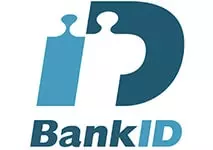 As we previously explained, the BankID system is inherent to players from Sweden. That being said, one does not necessarily have to be a Swedish national in order to use this innovative system. Players can apply for an electronic ID if they plan on staying in the country over the long term or for a period that exceeds one year.
Gambling buffs interested in using this innovative identification method must first sign an agreement with one of the banks that issue these electronic ID certificates. The financial institutions where this is possible include Scandia, Nordea, Danske Bank, Swedbank, ICA Banken, SEB, Skandiabanken, Handelsbanken, Alandsbanken, Sparbanken Syd, Ikano Bank, and Länsförsäkringar Bank.
Personal Number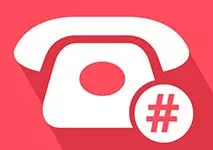 Casino players with permanent residence in Sweden must visit one of the issuing banks in order to apply for their unique BankID. The latter is practically the equivalent of a physical document for identification which means the player must possess a Swedish ID card with a personal identity number or personnummer as Swedes call it.
BankID can be issued only to individuals who have reached the age of majority. The personal identity number consists of ten digits plus a hyphen. The first six digits reflect the individual's date of birth in the YYMMDD format.
These are followed by the hyphen and three more digits which serve as a unique identifier. The last of these three digits is placed there to reflect the individual's sex, with even numbers attached to female personal numbers and odd ones for the males. The tenth digit was introduced in the late 1960s after Sweden computerized its system.
Players can obtain a unique personal number by registering with the country's Population Register. Applications are possible only in person and require certain documents like a valid passport, proof of address in Sweden, and a residence permit for individuals who are not Swedish nationals.
Internet Banking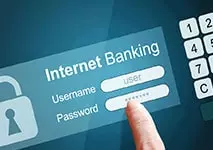 Players who intend to make payments to and from BankID casinos can open accounts at one of the associated banks. It is advisable to obtain your personal number before you attempt to open an account at a Swedish bank. This will prevent any delays and enable you to complete the process in less than one business day.
You can do this in person by bringing the following documents to the bank – passport, your employment contract, the personal number along with your Swedish ID card, and a residence permit for individuals who are not nationals.
Once you set up your account with one of the Swedish banks, you need to apply for its internet banking services. This is recommended if you plan to use BankID both for identity verification and casino payments.
Online banking is usually part of the bank account package but might require additional activation on your behalf. Most banks will open an online banking account for you if you are already a customer. It is also possible to start the application process on your own but this usually requires assistance from a banking agent.
Mobile BankID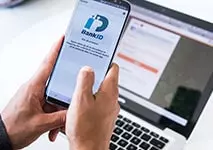 BankID can be used both on desktop computers and mobile devices. Players who access their preferred online casinos on their smartphones can use Mobile BankID on their Android and iOS devices.
For the purpose, the player needs to log into their online banking account, tap on the menu with the mobile services, and follow the instructions to obtain their Mobile BankID. This will enable them to make mobile casino payments as well as to verify their identity at the websites of different organizations and authorities.
Playing at Online Casinos with Your BankID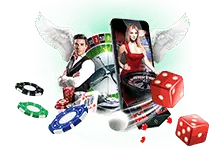 Now that we have clarified the necessary steps you need to take to obtain a BankID, let's see how this innovative technology works when used for the purposes of online gambling. This method of digital identification enables players to sign up, access their casino accounts, and make payments faster and smoother than ever before.
Online casinos typically require their customers to authenticate their identities before they can withdraw. This process requires a good amount of time since you need to provide copies of various identification documents alongside valid contact details such as email and phone number.
This is not the case when it comes to BankID gambling sites where the player can use their BankID to verify their identity and make payments directly from their personal bank account. This usually happens with the help of third-party online banking platforms like the popular Trustly which launched its Pay N Play platform in late 2018.
There is no need to enter any of your details in a registration form since this information is stored into your BankID already. This is how playing at a BankID casino works in several simple steps:
The first thing you do is find an online casino that supports the no-registration feature. Such casinos are usually easy to spot by the button that reads "Play Now".
After you click on the "Play Now" button, the system will prompt you to make a deposit by logging into your online banking account. For the purpose, you simply have to select your bank from the list of available financial institutions.
The deposit is completed as soon as you access your online banking account with your BankID. The gambling operator receives the necessary KYC (Know Your Customer) details through the BankID, verifies who you are, and your casino account is instantly created in the background. You are now a registrant at the casino and can start betting real money on your preferred games with the deposited sum.
Suppose you get lucky and earn a nice payout. You can cash out the money immediately by requesting a withdrawal with the help of your BankID. You click on the withdrawal button and specify the sum you want to cash out. The requested sum is immediately sent to the bank account you initially made a deposit from.
The cool thing about this groundbreaking technology is that it allows for exceptionally fast withdrawals. These are possible because there is no need for the casino to verify your identity before the funds are released from your balance. Of course, this also works to the advantage of gambling operators because it saves them time that would otherwise be needed to verify your identity.
Another unique aspect of playing at BankID casinos is that players can close their browsers if they want to take a break and resume their betting sessions straight from where they left off. There is no need to log in or anything – the player simply loads the casino's website and is granted immediate access to their account.
BankID casinos can be opened in most widely used browsers like Firefox, Explorer, and Google Chrome. The browser itself automatically saves the players' details in its cache system, allowing gamblers to continue playing without logging back into their accounts.
Of course, this does not mean it is impossible for the player to exit their casino account by logging out. On the contrary, they can log back in with the help of the BankID they utilized when "registering" their account in the first place.
BankID Casinos and Security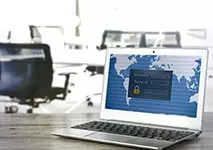 BankID poses as a safer alternative to the standard sign-up process at online casinos. Players are practically using their unique electronic signatures to carry out financial transactions and sign digital documents.
These advanced digital signatures are legally binding. Both the websites of the gambling operators and the digital signature application use advanced encryptions to protect players. You have a unique account that is inaccessible to any third parties.
It is always a good sign when a given online casino works with BankID because this indicates the operator takes the security of its customers very seriously. These electronic identification signatures are issued by banking institutions that work in cooperation.
Therefore, online casinos who support BankID are required to adhere to the same security standards as those of the banks issuing the digital signatures. There are several other markers you can recognize a reliable BankID casino by.
The first thing a player should look up is whether their casino of interest holds a valid license. This may be a license granted by the Swedish Gambling Authority (Spelinspektionen) or another European regulator like the Malta Gambling Authority or the Gibraltar Gambling Commission. The license needs to be obtained by a European regulator because online casinos working with this advanced identification technology are currently available only in several countries on the Old Continent.
You need to also ensure your casino of choice uses encryptions to protect its players' sensitive information. If encryptions are used, you typically get to see a padlock icon in your browser's address bar when you load the casino.
The software suppliers the casino works with are also a good indicator for its reputability. Trusted BankID gambling operators would normally team up with equally reputable and established software studios like NetEnt, Microgaming, Yggdrasil, and Playtech, to list a few.
Players can further protect their BankID by following one simple rule of thumb – never disclose your digital identification details to another person or use your BankID at somebody else's request.
Merits and Downsides of BankID Casinos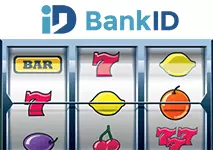 This groundbreaking technology is beneficial to casino players in several ways. To begin with, it eliminates the necessity of having to go through registration at your preferred casino. If the operator supports verification and payments through BankID, you can sign up within seconds by simply processing a deposit from your bank account. This enables you to start playing without any annoying delays.
Speaking of payments, BankID allows you to conduct much faster transactions to and from your casino account. Withdrawals through BankID are almost as quick as deposits because the player is not required to go through verification to confirm their identity.
The requested withdrawal amount normally appears in your bank account within a few minutes. There is no need for the player to provide copies of any additional documents for verification as is commonly expected at regular online casinos.
The biggest merit resulting from the BankID technology has to do with security. Transactions made with your BankID are legally binding and protected by state-of-the-art encryptions both by the gambling operator and by the bank that has issued the BankID. In essence, you are not exposing any of your sensitive personal information to risk when you use BankID.
On the downside, very few online payment processors have upgraded their platforms to support payments through BankID. Trustly was the first fintech company to take notice of this new technology with the introduction of Pay N Play. Respectively, players from a few select European markets can use BankID to access and top up their online casino accounts for the time being.
Will This Solution Become Broadly Available in the Future?
BankID presently has rather limited availability and is offered by a dozen or so online casinos that cater to the European gambling market. As far as we are aware, this advanced service is currently an option for players from several countries only – Sweden, Finland, and Germany.
We anticipate the innovative technology will expand to new territories in the future but the road toward this expansion will be long and thorny. The technology relies on highly sensitive data such as user's personal identity number.
This means the electronic verification system needs to be approved by the respective country's government first but considering its immense safety and convenience, it is more than likely more governments will move forward to adopt it in the time to come.
Online Casinos with BankID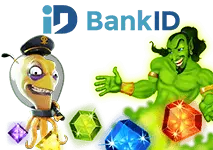 The first BankID may have been issued in 2003 but the technology is yet to become widespread in the online gambling universe. At the moment of writing, BankID has been adopted by twenty or so gambling sites but not all customers of the operators can make use of it.
One needs to be based in a country where such digital identification signatures are issued. Only then will they be able to access the casino and deposit with the help of their BankID. These websites can be easily recognized as they all feature a "Play Now" button that indicates the customer can verify their identity, deposit, and start betting real money in under a minute.
We have compiled a short list of the best gambling sites that work with the BankID technology. Check it out to see what these recommended casinos are all about.